Best Electric Cars and Plug-in Hybrids for 2013
Nissan Leaf is an all-electric car with 70 to 100 mile range. 50,000 have been delivered globally. Nissan delivers great value with the new 2013 price starting at $28,800. Drive it at 30 mph and you might get 140 miles; drive it at 70 mph running the air conditioner, 60 miles. LEAF Test drive. This 5-door, 5-seat, hatchback has the right size and range for many who drive under 100 miles daily, or for households with more than one car. The LEAF is the first electric car to earn five stars from the National Highway Transportation Safety Administration.
Chevrolet Volt was awarded Car of the Year by Motor Trend and Automotive Magazine and awarded Green Car of the Year by Green Car Journal. General Motors is the current plug-in hybrid leader with the Chevrolet Volt, a plug-in hybrid with 38 to 40 miles of electric range and total range of 380 to 400 miles by engaging a small gasoline engine that is coupled with an electric generator. GM has a complete Voltec Propulsion System roadmap, which envisions added offerings of pure battery-electric and diesel plug-in hybrids. Our Volt Test Drive showed that this is plug-in hybrid is sportier to drive than regular hybrids and a great 4-door, 4-seat sedan for those who want to minimize fill-ups and avoid range anxiety. The Volt starts at $39,145 with nice tax credits or $350 monthly lease.
Ford Focus Electric starts at $39,200 with double the charge speed of the LEAF. You can go online and configure your car, select a dealer and place your order. Although Nissan and Chevrolet have been getting most of the electric car media attention, both automakers are worried about Ford who will give customers the widest choice of electric and plug-in hybrid cars and crossovers. Ford has also partnered with SunPower to offer an affordable rooftop solar system that will allow Focus Electric owners and other electric car drivers to "Drive Green for Life," and charge with solar. Ford Focus Electric Test Drive
Ford C-MAX Energi, an exciting new crossover with more room than a small SUV. The 5-seat C-MAX Energi offers 550 miles of overall driving range using the lithium battery, electric motor, and gasoline engine – more than any other plug-in. Ford offers the passenger room and cargo space of the Prius v. Its 20 miles of electric range beats the prius plug-in, but falls short of the Chevrolet Volt. The C-MAX Energi starts at $33,745.  Ford C-MAX Energi
Ford Fusion Energi SE is a beautiful 5-seat sedan with more safety and telematics features than any other car on this list. Drive this plug-in hybrid for 20 miles of electric range, then a small efficient gasoline engine extends your range by hundreds of miles. The Fusion Energi goes on sale in early 2013 starting at $38,700.
Toyota Prius Plug-in starts at $32,000. The Prius Plug-in cost about $8,000 less than the Chevrolet Volt, a plug-in hybrid with a 40-mile electric range in comparison to the Prius PHV's 15-mile. After federal tax credits, the difference narrows to only $3,000. The Prius Plug-in costs about $8,500 more than the classic Prius Liftback, but the difference narrows to  $6,000 after Federal Tax Credit.  In California, Toyota Motor Corp also offers the all-electric SUV, the RAV4 EV, and for car sharing and campus programs the all-electric Scion iQ EV. Toyota Prius PHV Test Drive and Review
Honda Fit EV. 2013 Fit EV can be purchased for $36,200 or $399 per month lease. The new compact 5-door 5-passenger hatchback electric car uses Blue Energy lithium-ion battery pack for a 100-mile all-electric range. The new 2014 Honda Accord Plug-in Hybrid will be a premium midsized sedan, also available as a hybrid.
Tesla Model S Sedan is being delivered to the 20,000 who have ordered with deposits. This luxury all-electric sedan that starts at $57,400 and has an optional battery pack for $20,000 more that gives the car a 265-mile range. Tesla will compete against these less expensive competitors with a luxury interior, electronics like a 17-inch display, 5 + 2 passenger capacity, switchable battery option, and up to triple the electric range of competitors. Tesla is now taking reservations for 2014 delivery of the new Model X SUV with all-wheel drive from two electric motors, breathtaking styling including winged doors, and the same roomy seating capacity as the Model S. Tesla Model S and Model X
Smart Fortwo Electric is driven daily by thousands of Car2Go car sharing members in San Diego and Portland. The new Smart Electric can be purchased for only $25,000 ($17,500 after federal tax credit). This Smart price breakthrough will expand the market for electric cars. The 2-seat Smart Electric has a range of about 70 miles, which is great for cities and universities. The new third-generation Smart Electric has a more powerful generation-three 2013 model year with a 55kW EM-motive motor and 17.6kWh ACCUmotive lithium battery.
BMW is now leasing for $499 monthly 1,000 ActiveE all-electric cars in metropolitan markets of California, New York, Connecticut, and Massachusetts. 70 are in San Francisco's DriveNow car sharing. In 2014, you can order a BMW i3 all-electric city car or BMW i8 plug-in hybrid sports coupe that dazzled movie audiences in Mission Impossible Ghost Protocol. BMW will extend range with innovative super-strong, yet lightweight materials including aluminum frame and carbon fiber reinforced plastic, or CFRP for short. The i3 body consists of two independent modules: the Drive Module consists of an aluminum chassis and the powertrain with the lithium-ion battery, the performance electronics and a compact but powerful electric motor.
Mitsubishi i (official name with small "i") is bigger and with more zip for the U.S. market. This pure-electric city car is selling starting at $29,125. Mitsubishi will challenge the Nissan LEAF, Ford Focus Electric, and Honda Fit Electric. This fun-to-drive 4-seat 5 door, will have a wheel base 5 inches wider for the U.S. market, but the micro-compact will still be able to get those precious city parking spaces that no other car can take except the Smart. The more powerful U.S. version will have an electric range of 62 miles (EPA adjusted) with a 16kWh lithium battery. Mitsubishi Electric Test Drive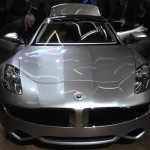 Fisker Karma is a luxury sports plug-in hybrid for those who can afford over $100,000. With 20kWh of lithium batteries, you could go 50 miles before the 2L turbo engine is engaged. The Karma invites you to accelerate, using two electric motors that deliver 403 horsepower, so your mileage may vary. In theory it's a 4-seater; with a tight fit in the back seat. The Karma is about sex appeal, performance, and luxury.
EV Forecasts and Renewable Energy
Electric car sales will triple in the U.S. each year from 20,000 in 2011 to 60,000 in 2012 to 180,000 in 2013. This report is about freeway-speed U.S. available all-electric and plug-in hybrid light-duty vehicles. Accenture forecasts 1.5 million electric vehicles in the United States by 2015. Over 10 million electric vehicles are possible by 2020, especially if oil prices rise as battery prices fall. Single electric utilities have scenarios for charging over one million electric vehicles in their own service area by 2020. With renewable energy investment required of utilities in 30 states, these utilities are most interested in night time charging of electric vehicles with wind, geothermal, and hydropower. Utilities are also implementing smart grids and incentives for off-peak charging.
Over 100 competitors are fighting for U.S. share of the electric car market. Some may be struggle to get significant share due to time delays and cost of safety and other regulatory approvals, delays in funding, or unpleasant surprises from a supplier. It's a tough business. Even Tesla had to add 700 pounds and two years to get the first Roadsters in customers' hands.
One thousand Volvo C30 Drive Electrics will be delivered in Europe in 2011. Let's hope Volvo brings this C30 to the U.S. in future years.I was impressed with the performance of the VW Golf Blue E-Motion Concept that I test drove, but we may not see it in the U.S. until 2014. BMW will continue demonstration programs ahead of its commercial electric car launch in 2013.
electric cars with range extended by fuel cells continue to make progress. Hyundai is building 1,000 Tuscon fuel cell vehicles. Mercedes is putting 200 of the new F-Cell B-Class on global streets; Toyota putting 100 of its 400-mile range FCHV into fleet applications; Honda and others move forward.
China could have several price leaders being delivered to U.S. customers in future years, but BYD, Coda, and Chery are slow to have everything in place for U.S. sales and service. India might bring us a Maharinda Reva or Nano EV that under prices everyone. Don't count out the good old United States "can do" entrepreneurs with exciting innovation and venture capital backing.